Buenas!
The second week has practically flown by compared to the first! This past weekend we went to Playa Samara with Karla and stayed at her friend´s house. It was nice to get away and lay out on the beach for a couple of days! Our first morning, though, we woke up to a bat on the floor of our room. Kayla and I think it probably creeped in through the window during the night. One of its wings was injured so it couldn´t fly away, but Karla so graciously scooped it up with a broom and dustpan and took it outside.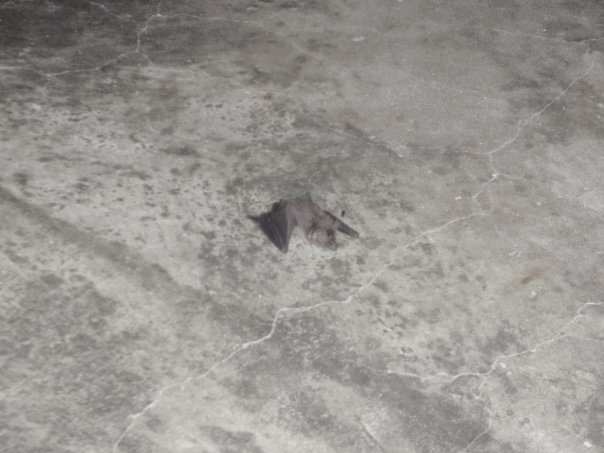 We headed back to Nicoya later Sunday evening for another week at San Ambrosio. Monday went well and I think the kids are becoming more adjusted to us being in the classroom and teaching them. They still don´t always listen, but I have learned that stickers are a fairly decent bribe to have a quiet room.
On Tuesday Kayla and I had the opportunity to travel with the 4th graders to the capital city of San Jose to visit the Natural History Museum, Gold Mueseum, the Post Office, and the INBioparque. We had to catch the bus at 3am, had rice and beans for breakfast at 5 and started our day of muesums around 8. It was fascinating to see the city, but still very exhausting since we did not return home until after 9pm. The INBioparque was my favorite stop of the day. It was a beautiful place with many different kinds of vegetation, flowers, bugs and animals. My favorite was the butterfly garden. The mariposas, as they are called here, were so beautiful! The Blue Morpho butterfly was my favorite, which is in the picture below.
When I returned on Wednesday to school I found out that Susanna, the teacher I am working with, wouldn´t be here the rest of the week because she is sick. I went to my first and second classes of pre-k and kinder, who told me there wouldn´t be English that day because she was not there. Kinder also told me not to come the rest of the week. Later in the day when I went to teach 2nd grade, we got through about 5 minutes of class when the other elementary english teacher, Andrea, came in and said the kids had to go out to the basketball court for a game against one of the other private Catholic schools in the area called Espiritu Santo. Needless to say, Wednesday felt like a waste for me. Today went really well though and I was able to meet with 2nd, pre-k and 1st grades. I have enjoyed having the class all to myself because they are forced to depend solely on me and the little Spanish I know.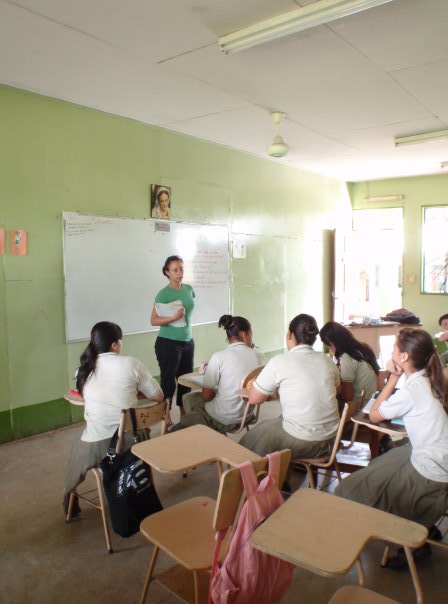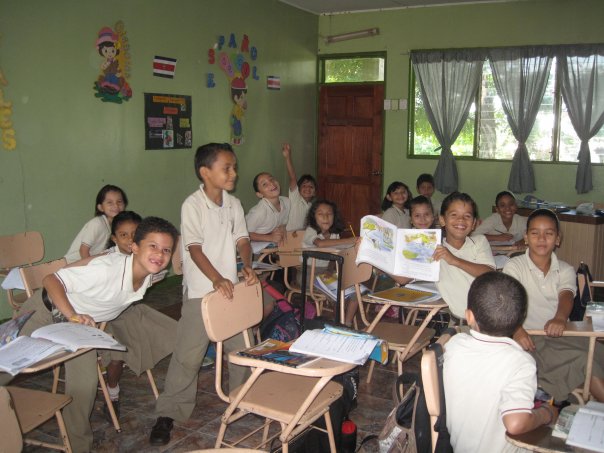 (Here are my 2nd graders!)
I have been enjoying being in the classroom more this week, however I am still a little frustrated that the teachers live by ¨the book¨as Kayla and I so lovingly refer to it. Some of content in it isn´t so bad, but we are trying to work together to make it more interesting and enjoyable for the students by including more hands on and interactive activities. An activity I have implemented with my first graders is keeping a journal. They´re able to pick what they write about and illustrate it as well. Today I had them to write about Pica de Leña, which is this Saturday. After I asked them to write about it and illustrate it I was surprised to find out that a few of my students had no clue as to what it was. Its a festival of woodcutting that is celebrated every year. People load wood in painted ox carts which are pulled through town and dropped off at a designated place. They also have lots of music and dancing.
Click here
to see a short video from a past year´s festivities of dropping off the wood.
Around 12:30-1:00 this morning, Kayla and I were woken up by a band of 11th grade students from San Ambrosio and their teacher, Armando. They were singing and playing drums while Armando played his guitar. The homes here have a gate you must first open before coming to the front door, so it was odd to have the students singing right outside our window (our room is at the front of the house) while we were trying to sleep! Karla explained to us this morning on our way to school that it is a tradition for the 11th grade students to serenade their ´profe´s´as they call them before graduation. She said she remembers doing this when she was an 11th grader herself.
That is all for this week! Tenga un buen dia!
dani