This past week has been exciting and full of traveling and experiencing new things! Since our students finished school last week, Kayla and I have been seeing different parts of Costa Rica with only one of them including Jerry since he decided to go surfing and head to Nicaragua.
Last Thursday we celebrated Thanksgiving with dinner at Karla´s house (which is where Kayla and I have been staying). We had over the neighbors and some friends we have met here in Nicoya. For dinner we had a turkey (cooked Paula Deen style by Karla), gravy, sweet potatoes, broccoli and cheese casserole, corn, macaroni and cheese, a salad and veggie tray, and (of course) some good ´ol southern sweet tea! Before we ate, everyone went around and said what they were thankful for this year since thats something we do back home in the States.
That next Friday Jerry, Kayla and I headed to Ostional to hang out. We took a bus that dropped us off in Nosara (after breaking down on the way there and moving to a different bus) and then the three of us walked the way to Ostional... with a couple of rides along the way. While at Ostional, we got to see some turtles coming up on the beach to lay their eggs and some who just made a u-turn after deciding it was probably too much of a struggle to go any further. Ostional is a small town and one of their main sources of income comes from the turtle eggs. Many nests are protected, but the locals are allowed a certain amount of time in which they are allowed to dig up eggs from the nests and collect the eggs to sell for food. It was definitely interesting to see the beach covered with people digging up the eggs and to see the turtles up close.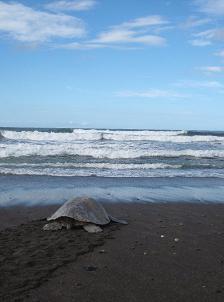 Kayla and I came back to Nicoya on Saturday and helped our neighbor´s daughter, Adriana, celebrate her 18th birthday! She had a lot of friends over and her mom cooked some amazing tipical food. There was also birthday cake, of course!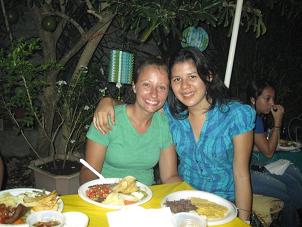 On Sunday Kayla and I were dropped off at Tamarindo which is a very popular beach, especially for surfing. There were a lot of English-speaking people there so it was easy for us to get around. The beach was beautiful and the water was cool and clear. Boats were scattered right off of the coast all day and surfers were out on the opposite end. It wasn´t too crowded when Kayla and I were there, though when it gets closer to the Holidays I´m sure it will be.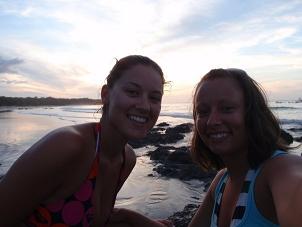 After Tamarindo we headed to La Fortuna which was about a 5 hour drive on the Interbus. In La Fortuna we stayed at a Hostel called Gringo Petes´ for $4 a night and got some super deals on activities we wanted to do. We visited Baldi Hot Springs one afternoon and caught a volcano tour that same night with another hot springs that was right off the side of the road and free to visit. The volcano tour was a bit of a disappointment because it was cloudy and we weren´t able to see any lava.. but we met some interesting people that were in our group! The next day we went canyoning/rappeling in the morning. This was by far my favorite part of our trip to La Fortuna! We had great tour guides and slid down waterfalls, jumped into small pools of water and rappelled down a 220 foot waterfall! That afternoon we went zip lining through the canopy and saw some toucans right above us in the trees! We spent the rest of that afternoon relaxing in some more hot springs at a place called Los Lagos.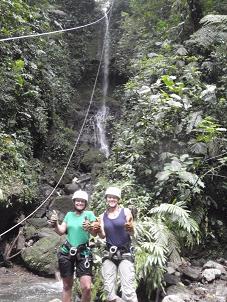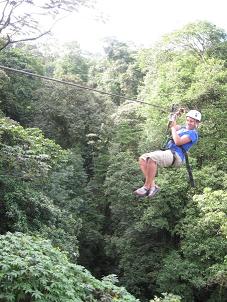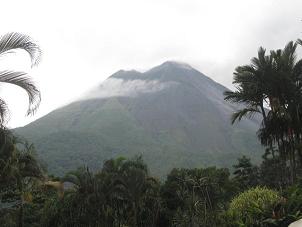 I have loved being able to travel around and experience more of Costa Rica. It has been a fun challenge to be getting around on our own without Karla´s help. The people here are so friendly, especially the other travelers we have met from the States, Germany, Australia, Switzerland and Canada! I really enjoy the culture and am sad that we´ll be leaving this warm weather in less than a week... but I am very much looking forward to returning home and graduating!
Adios from Nicoya!
Dani